News
Top 15 Quick Easy Home Decorating Ideas
Nov 13, 2021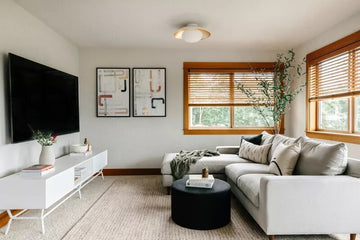 If you are figuring out how to decorate your small living room on a limited budget then you are at the right place. We thought of sharing with you some of the Quick and Easy Home Decorating Ideas that will give a fancy look to your room. 
You can tackle each of these decorating ideas in one day, even though the results will look like they took way longer to pull off.
1. Set Up A Cozy Reading Spot
HEIDI CAILLIER DESIGN
Creating a reading environment is so crucial when you want to explore the best book & reading experience. It's absolutely fine if you have no s[pecoal corner reserved as a reading spot, make one out of the leftover area in your room. 
Choose furniture with fabrics and shapes that are both sophisticated and homey, perfect for entertaining or unwinding alone.
2. Treat Your Windows
VICTORIA PEARSON
Adding the right window treatment can make all the difference. 
We especially stay in a very close environment with the same pattern of wall paints and window covers, try using small patterns to make it look more apparel 
3. Set Up A Breakfast nook
 
 JOHN GRUEN
Breakfast with a beautiful view? Who doesn't wish to have it? Make sure you maintain a good view in your breakfast/dining table by adding some good layers of the table mat, layering it out with some flower vases, and some candles to give it some wings on the breakfast table.  
4. Swap Out Your Throw Pillows 
STUDIO ASHBY
Throwing pillows is the easiest way to freshen up in the bedroom or living room. Adding a new color, print, or shape with a throw pillow can make the entire space feel new again.
5. Bring a Stool Into the Bathroom
ANNIE SCHLECHTER
Add a stool next to the bathtub. It not only fills out the extra space but it's also a great way to make the whole space feel more luxe.
6. Show Your Powder Room Some Love
PETER MURDOCK
While decorating the whole other rooms, why forget one of the tiny spaces that gives a good vibe to you. Take this powder room, for example. With a light blush pink wall color and a surrounding gallery of eclectic artwork, the small room packs a lot of punch.
7. Get Inspired By Nature 
Adding some plants in your living room adds more positive vibes. 
Decorate your living rooms with artificial or small plants to make them look more aesthetic 
 There's also plenty of character even though it's sticking to a strict color palette. For a similarly inviting and grounded environment, get inspired by nature. Think seagrass, rattan, jute, wood, brushed concrete, and marble.
8. Simply Tidy Up
The most boring part is to clean the living area and keep it the same way throughout. 
But arranging some tidy space out of the whole bog area and keeping it in a systematic format helps in easing the load off you to find the objects in place. Consider installing coat hooks or bringing in a stylish coat rack coat by the front door. Then place a small folding chair underneath it to sit on when you take off your shoes. 
9. Touch Up The Walls 
ALEXANDER M. REID
The best part of the room is to keep experimenting with different colors and which goes best with which decor. If you have a small living room here are the best - 15 Small Room Decor Ideas that will help you design your small world to a big extent.  
10. Layer Rugs And Patterns 
WILLIAM ABRANOWICZ
The overall room look also follows having a good layer of rugs added with some patterns. Why use just one rug when you could have three? Layer rugs in varying colors, prints, and textures to add visual interest to your floor.
11. Rethink Your Gallery Wall
ANNIE SCHLECHTER
If you find your walls are too heavy or too simple try adding some gallery walls to give it a look. Bring in antique frames, or hit up a thrift store or flea market, and arrange a ton of hand mirrors into a gallery wall.
12. Introduce A New Throw Blanket
ROBSON RAK
Putting a colorful and plain blanket will give a big transformative design to your bedroom. It's a great way to experiment with colors 
Putting a colorful throw blanket at the end of your bed or flung over the sofa is an easy but transformative design trick. It's also a great way to experiment with colors and prints before fully committing to them.
13. Opt For Statement Art
PHOTO: ALEXANDRA ROWLEY; DESIGN: STUDIO DB
Make a simple wall a little more exciting with oversized artwork. Choose large-scale photography or something abstract and vibrant to make a statement.
14. Install New Lighting 
STUDIO ASHBY
Lightings add more highlights to your decor and room. Keep the lighting simple but in the right positions. Suggesting you go with a brass pendant light. 
It feels much more refined and sophisticated than a table lamp would and contrasts with the more traditional elements throughout the bedroom.
15. Paint Your Floors
THOMAS LOOF
Don't leave your floors empty. The quick change allows the tub to take center stage. We'd want to soak in there all day long.