News
6 Gorgeous Bed Sheet Ideas for your Bedroom
Dec 06, 2021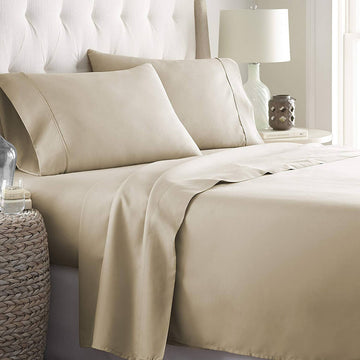 Bedsheet always makes your bed more comfortable when it is designed and structured well. A good amount of sleep has a lot to do with what you sleep and how you enjoy your sleep in the process. Suggesting you some of the Gorgeous Bed Sheet Ideas for your Bedroom.
Some people might get confused in choosing the best sheets for them. But using any type of sheets and mixing it with different types will also give a good look overall.
Some people don't know whether to use flat sheets, fitted sheets, or both. But using both types of sheets gives you various different benefits, so you're recommended to use both in order to have optimal performance, comfort, appearance, and protection.
All bed sheets are able to give you a variety of different required benefits when they're used perfectly, so you're advised to invest in a bed sheet set. But finding one that suits your needs exactly can be difficult, so here are 31-bed sheet sets that are highly advised for you to stay out.
1. Mellanni Brushed Microfiber Bed Sheet Set
Choosing Mellani Brushed Microfiber Bed sheet is the best choice to go with as it has many choices which would make your bedroom interior look appealing enough. These sheets are also durable since they're capable of resisting fading, stains, shrinking, and even wrinkles.
2. Nestl Bedding 4 Piece Sheet Set
Plain bedsheet also gives a new vintage look which would easily go well with white walls or some plan walls. Try to keep the interior simpler to match the vibes.
3. Pinzon Signature Cotton Velvet Flannel Sheet Set
Going with velvet is the best choice if you are a person who is fond of colors, especially bold colors. If you want to decorate a small living room then keep in mind to maintain minimal indoor items and let them follow the bedsheet color/ design.
4. Sonoro Kate Bed Sheet Set
While choosing the showpiece keep in mind to match it with the bedsheet that you are using or the most used color in the interior of your house. If you are using bold royal blue as your bed sheet then see to it that you match it with the living room interior decor as well and add some gold, dark bold color showpieces to make the vibe similar.
5. Lux Decor Collection Bed Sheet Set
Going with a hand-printed kind of design that matches both the vibes is really good. Choosing some nude color just similar as shown and with the hand-printed material will give a vintage look overall. This kind of bedsheet will make you feel.
6. Sweet Home Collection Bed Set
If you are a nature lover person then this kind of bedsheet design is for you. But if you are thinking to go with such multicolor with some leaf or flowers or some verticals printed on it then see to it that the wall arts or photo frames also match the same kind of design then you are good to go with.