News
How to Style Your Bed - Fancy Bedding Ideas
Dec 06, 2021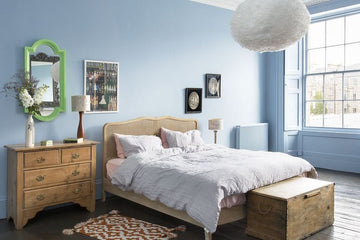 Your bedroom is the go-to place when you are too much pissed off from your daily routine. How about making it look fancy enough so that you may have a good nap in the beautiful place. Steal some of our ideas for styling your bedroom. Check out our 6 Unique Indian Small Room Interior Ideas to make your small room look prettier.
1. Simply Rustic
RACHEL WHITING
Pared-back, natural and limited, the neutral color palette is key to this rustic bedroom. A bespoke paneled headboard easily opens out to include the bed or doubles flat against the wall.
2. Cozy Layers
CAROLYN BARBER
Layering the background of the bedroom seems to be too attractive.
Contrasting patterns in muted tones create a restful bedroom, while wall-mounted lights keep the bedside clear.
3. Add Some Southwestern Charm
Adding something funky in the children's room will be more recommended as it will add more joy to their play. If you are planning some interior design for girl's/women's bedrooms then go according to their taste or our guide as well.
We love this southwestern-style bedroom from oak.hillfarm because it's a little unexpected, but also vibrant and bold. With the cowhide rug and cattle skull wall art, this bedroom presents continuous visual attention.
4. Try a Muted Palette
When it comes to creating a color palette for your bedroom, muted, tranquil paint colors are often best. This bedroom from the thehiredhome relies on soft neutrals and muted deeper shades to create a serene, calming mood. While bold colors can work in a bedroom, softer hues are ideal for designing a peaceful space.
5. Fabric Fusion
CAROLYN BARBER
Simple block prints will look perfect with the white wall. Try mixing with simple block printed patterns and some vintage stripes to keep going with the trend.
6. Drifting Away
DOUGLAS GIBB
How about adding blue in the rooms. Adding sky blue walls and a cloud-like pendant light, which adds a quirky impact.
7. Add Shelving
restoringlansdowne / Instagram
Having adequate storage both for some very important stuff and also a few accessories to help the space feel finished. The adorable shelf in this bedroom from restoringlansdowne is a high addition when you need a little space for knick-knacks. It's the perfect ledge for learning a few pieces of art or storing your phone overnight.
CC -
https://www.housebeautiful.com/uk/decorate/bedroom/g31/bedroom-decorating-ideas/?slide=11 
https://www.thespruce.com/gallery-of-bedroom-decorating-tips-and-ideas-4092849