News
6 Bedroom Decorating Tips & Ideas
Dec 06, 2021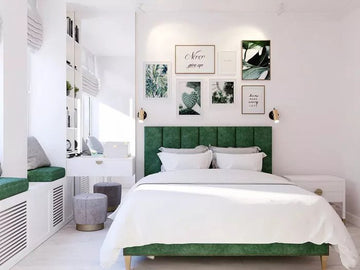 Your bedroom is your home and should be your favorite room in the house. A place to rejuvenate and relax, it's important to create an oasis that creates a sense of calm after a hard day.
It doesn't matter where you are starting from or you have already invested in your interior, this guide will help you provide all the basic tricks and tips to maintain the same.
1. Keep the wallpaper bold.
Wallpaper is the best one to experiment with. Try going for bold wallpapers to make it look attractive. This stunning room from Gray Space Interior Design proves that the bedroom is the perfect place for statement-making wallpaper.
TIP
Try using MODERN lines in your bedroom. White is the perfect foil for a pairing of yellow and pink, allowing the colors to sing out. A steel-blue upholstered bed acts as a cool contrast. Soft plaster pink works to soothe any brash tones for a calming overall look.
2. Add Loads of Texture
The most attractive way to create room decor is to add loads of texture to it.
This bedroom from Black & Blooms is filled with textures on and off the bed that give it a comfortable, cozy aura. Invest in throws, pillows, and linens you truly love to give your bedroom a welcoming feel.
TIP
Use Vibrant Pinks
A striking mural will create a visual impact in a bedroom. Abundant decorative designs feel smart and modern when matched with luxurious velvet, gold, and marble. Mirror the pattern on just one cushion, keeping around bed linen plain and light so the mural can take center stage.
3. Don't Be Afraid to Go Dark
 D Burns Interiors
If your goal is to give your bedroom the most luxurious look then opt for yourself with dark colors such as dark blue, black, charcoal gray paint can add visual depth to a room while imparting a soothing, sleep-friendly feel.
TIP
If you have Bold Blue paint on the wall then contrast it with tables and similar matching floor lamps and some attractive wall art for a better view.
4. Try a Barn Door
Barn Doors are the next go to trend in the modern era to go with. Consider a barn door like this one from a concrete cottage instead of traditional sliding or folding doors. It also holds very less space and gives a good overall look.
TIP
A Natural Contrast
If you are going with Barn doors then go with handcrafted swords and ceramics with shades of chalk and charcoal to create a cool look in your bedroom.
5. Monochrome and White
How about going monochrome? Picking the most luxurious colour to create the whole monochrome look is so must, so try going with white (or charcoal grey) overall to meet the vibe. The all-white monochrome palette seen in this bedroom from redwhiteanddenim is fresh, bright and great for rooms of any size.
TIP
Boxing Clever
Make more extra of the shelf space in a built-in cupboard by using magazine files and box room to create paperwork and knick skills. Choose from a matching collection to keep the look neat and stylish. The vintage finds stand out to be the best outcome against a crisp, white backdrop.
6. Use Art Behind the Bed
It's been recommended to decor your living room with plants along with some wall arts behind the bed. This lovely neutral bedroom from Cathie Hong features an abstract piece behind the bed that not only adds visual interest but helps to tie the rest of the room together.
TIP
Coastal Life
If you get an option of painting the wall with some multiple colours instead of wall arts then go with some bold patterns that would just look similar as arts would. Mix nautical stripes and rope motifs with seashore flora and fauna designs for a rich scheme inspired by the ocean.
CC- 
https://www.housebeautiful.com/uk/decorate/bedroom/g31/bedroom-decorating-ideas/?slide=17 
https://www.thespruce.com/gallery-of-bedroom-decorating-tips-and-ideas-4092849