News
5 Living Room Plant Decor Mistakes
Dec 06, 2021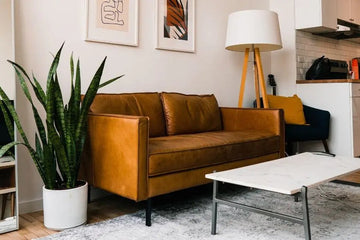 It's very common to make mistakes when you have so many choices at your front, such as Interior Design. It takes most people quite a while to master the art of interior landscaping in a clever and thoughtful way.
How to avoid rookie mistakes in interior design and get a more real feel for what it takes to satisfy the eye of every visitor.
Let's know the very common makes that you do in your Living Room Decor.
1. Keeping plants out of the room.
Many people think that keeping a plant indoors is the biggest task to look at by taking proper care of it and maintaining it.
The best solution is to look for those plants that are low in maintenance and would also give a good look to your living room and make it look luxurious.
It doesn't matter that you have a small living room or a large luxury room to decor. You must try placing small plants for both.
2. Insufficient light in your home
If your living room has a very dark and shadowy environment it won't look good to keep the plant in the living room. As the living room is the first impression that is seen when any guest enters your home.
Try to keep the surrounding of the room filled with good lights and flowers, also try some lamps facing the floor to make it look good and apparel.
If you have a plain wall in the room, fill it with some good wall paints and wall art to look decent and luxurious.
3. Storing the junk on the shelf/table
Storing and not maintaining the bookshelf has become common now. But the best way to decorate your bookshelf/ table is to divide the bookshelf with the main and wanted notes and book and by adding some plants in the middle.
The table is another area where plants should be highlighted but usually aren't. There are many plants suitable for tables that are small, clean, and tidy such as the Snake Plant. This type of plant is ideal for your period as it doesn't shed its large leaves and looks stunning in any home decor.
4. Home decor limitations
You think there are no limitations to the decor you try to create. But that's not so, everything looks pretty when it's kept minimal and up to the point by looking at the space and the color combination. Placing too much in one place in the living room and keeping the other rooms empty won't fill the glow that's missing. Instead keep the decor minimal with the right colors that even suit the furniture, blankets, and the materials placed inside.

As a rule of thumb, rooms look more interesting if you add feature plants to provide focus. Walls are an excellent spot for hanging plants that add intensity to your space. This way you won't create clutter on the table, or on shelves.
5.The plant showroom feel
Have you ever felt like you were walking into a furniture catalog, rather than an actual living room? Dubbed 'the showroom feel', this particular problem boils down to a common lack of originality in modern interior design – how could the room feel unique if all the furniture was purchased at the same store?
The best way to stay on from this trap, according to expert interior designers, is to mix new and vintage elements. Add some design to your room decor, keep it complex and less obvious.