News
15 Best Small Living Room Ideas - How to decorate a small living room
Nov 13, 2021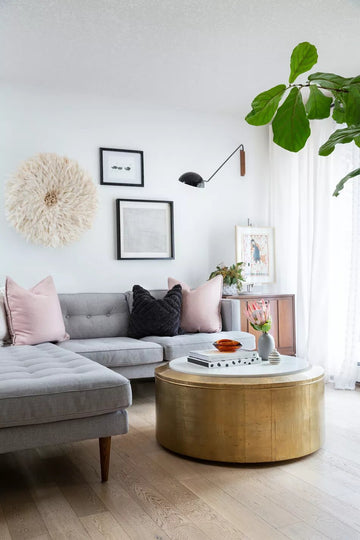 While you might dream of having a wider space to make the living room look just how you perceive it. But the major part of making the small rooms look wider and comfort is creating one for it. 
There are benefits to working with a smaller space and there are plenty of small room décor ideas to help you make the most of whatever square footage you have. 
Let's discuss some of the key points to decorate a small living room. 
1. Take Inventory 
If you are looking for a prompt change in your small space living room, eliminate the unwanted furniture which is taking extra space in your living room. Replace your living room with some fancy and ordinary furniture and let it look simple and decent to catch the eyeballs. 
2. Elevate Your Furniture
The lighter the furniture, the heavier it would look in remark of others. Its been suggested to go with light leg furniture rather than heavy to keep spaces between the two and look fancy and idol enough to grab the picture. 
3. Avoid Overcrowding
Overcrowding the living room area can leave a very bad impression as it would look too much just in front and it would look messy. Pick furniture that really gets the job done and doesn't simply take up space. For example, Macdonald's doesn't recommend placing a sectional sofa in a small living room. Instead, she suggests getting as big a sofa as the room can handle and then adding additional seating from there. 
4. Change the Layout
Experiment with the layout and order along with your living room. There is no thumb rule to go along with for organizing and arranging the furniture and keeping it in a set. According to the experts, it's been suggested that you try to experiment along with the shape of your living room and your furniture and keep which suits perfectly without portraying it too much ibn a small living room. 
5. Use Every Inch
Be sure to take advantage of any wasted space. For example, installing additional hooks on the back of the door creates extra space to hang sheets and robes out of sight. Beneath the bed, over kitchen cabinets, and around windows and doorways are extra often underutilized areas. 
6. Add a Fresh Coat of Paint
Be sure that you keep adding new colors and making your living room look fancier and aesthetic by repainting. Always try to match the wall color with the mattress, rugs, and another showpiece that is lying in your room. 
7. Let the Light In
Remember, in a small area (or any space, really), natural light is your best friend. "Where feasible, avoid placing anything in front of the window," Macdonald advises. This is because you'll want to let in as much natural light being possible to make the room feel bigger than it is.
8. Go Vertical
To optimize your square footage, Macdonald suggests using the height of the walls entirely. That means adding shelving for storage next to the sofa instead of a traditional side table, for example.
9. Move Your Bed
There's no hard and fast rule to place the bed in one position. Shift the bed according to the decor and showpieces you have to make it look fancy and elegant. 
When it comes to the bedroom, Macdonald also suggests using space by placing the largest piece of furniture against a wall, just like in the living room. "Don't be afraid to put your bed up against a wall,". 
10.Lift the Lights
Using special lights in your living room with different colors just at the top of the couch would give the best look to your living room. If you're short on surface space, don't sacrifice what you don't have to. Wall-mounted lamps and hanging pendants can easily take the place of floor and table lamps to clear up the clutter.
11. Incorporate Art 
Art is an attractive element to go with while decorating the living room. Adding more impressive wall art will make the room look catchy and it gives an add-on to the personality to even most of the boring spaces. 
12. Use Bins and Baskets
Decorative bins and boxes are a great way to create storage and hide hideous clutter. Tuck them under tables, on shelves, or above cabinets. You can also get a basket or tray to position both on top of the toilet or under the bathroom sink to hold extra rolls of paper, towels, and other small things. 
13.Squeeze in Shelves
Strategically fixed shelves are the ideal way to store more décor elements without crowding a space. "Add a small shelf at a high level that can be used for books and box storage as well as being styled out cute with vases and plants," Macdonald suggests.
14.Utilize Nooks
When you're trying to get every last square foot count, including a strict "no nook left behind" mentality—that counts for awkward corners, closets, and cutouts. Look for furniture that makes the most of the space to take full advantage.
15.Make a Scene
There's no rule that says a small space can't be big on personality. If you're someone who enjoys making a statement, bring all the drama with bright colors, loud patterns, luxe metallics, and unique artwork. You do you.